By David Hasemyer June 22, 2009 2 AM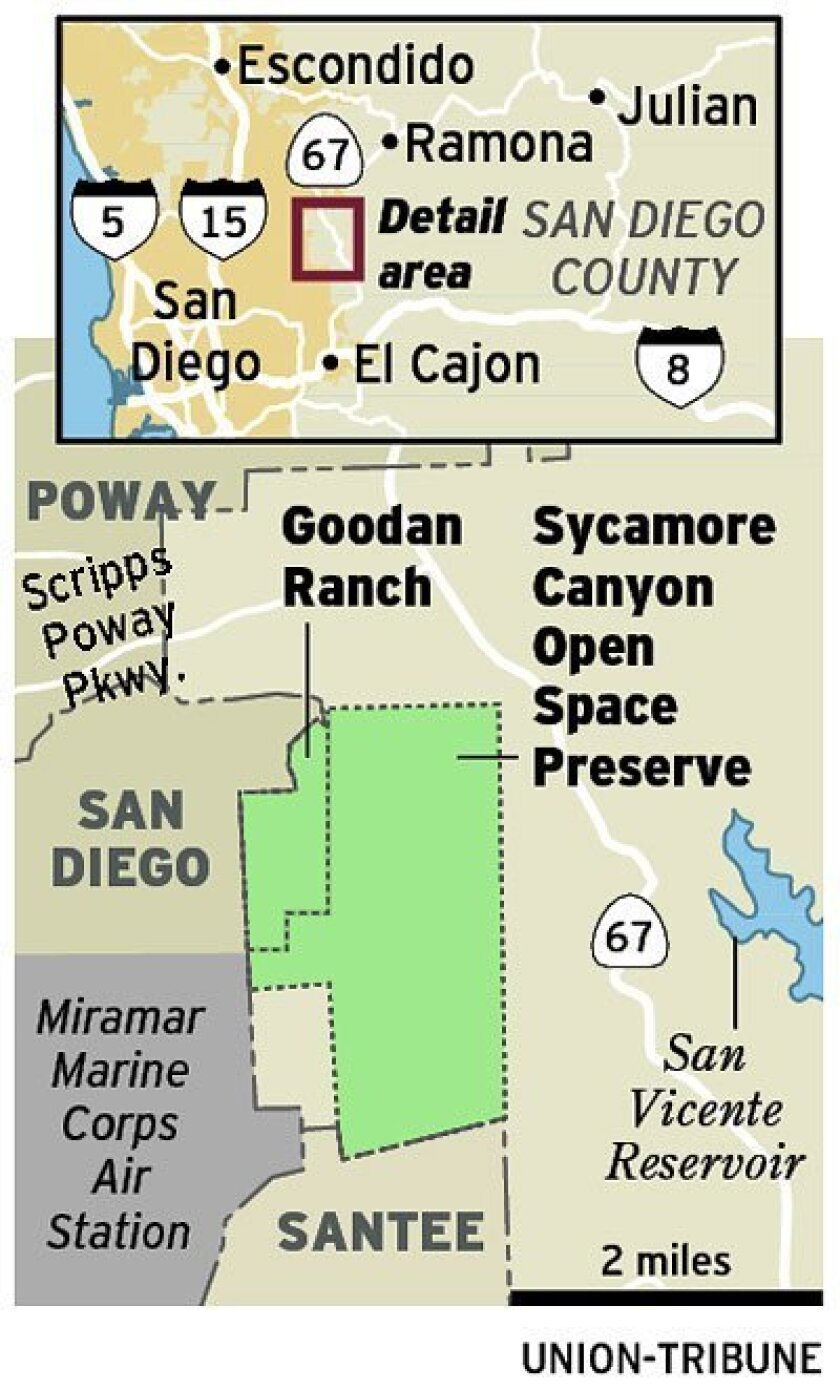 POWAY — John Ingersoll, only slightly winded from a rather steep hike, stopped and swept his arms across the vista of Sycamore Canyon stretching below.
The canyon is green now and alive with new growth. Scars from the 2003 Cedar fire that laid waste to the landscape are barely visible.
"It's amazing how great it looks," said Ingersoll, a longtime Poway resident.
Ingersoll was among nearly two-dozen hikers with the San Diego Natural History Museum's Canyoneers who cinched up their boots yesterday and hit one of the trails that meander through the Goodan Ranch Sycamore Canyon Preserve near Poway.
Ingersoll remembered smelling the smoke and seeing the orange glow from the Cedar fire. He remembered, too, the sense of loss the first time he saw the destruction.
"This place was a part of the community, and then, it was gone," he said.
Rising like a Phoenix from the ashes is an appropriate cliche to describe the preserve now.
"We think fire is a terminal thing, but life goes on," Canyoneer leader Jacques Rambaud said. "The plants return. The animals return. Fire is part of the cycle of life in nature."
Yet, too much fire worries Canyoneer leader Sandi Rosenthal.
If the fires come one right after another, nature does not have time to heal. Too much fire means the native vegetation does not have time to re-establish.
That leaves the area susceptible to being overrun by non-native growth – plants that drink up precious water and sap scarce nutrients from the soil, she said.
The Cedar fire burned virtually unchecked though the coastal sage scrub and chaparral-covered hills. Little of the 2,100-acre preserve remained but ash.
It now takes close inspection to see any telltale signs of the inferno that forced the preserve to close for nearly a year.
The preserve treats hikers and mountain bikers to 10 miles of trails and a peaceful stillness where the sound of silence is carried on a soft breeze and the faintest aroma of mint wafts in the air.
The place is a wildlife haven and home to all sorts of critters that slither, scamper and float.
Jack rabbits abound. Rattlesnakes are everywhere, though thankfully, they remain mostly reclusive. Red-shouldered hawks ride the wind like kites without string.
Canyoneer guide Walter Konopka urged those in his group to look all around, up and down, near and far.
Ten-year-old Dolev Starr did just that and spied a velvet ant, which is not an ant but a wingless wasp. It has a distinctive hairy orange body and hustles about with determination in its hunt for the nests of other insects.
Konopka was delighted at the sighting.
"Oh look here," Konopka said, pointing out the insect and launching into a description of its curious nature.
Dolev was intrigued, and piped up with the right answer to Konopka's question about why nature gave the small insect the fluorescent orange color of a Caltrans safety vest.
"To warn things to stay away," Dolev said.
He beamed with satisfaction when Konopka told him he was right. So did Dolev's dad, Jeffrey Starr, who had brought his wife and three children on the hike.
It was a chance to expose his children to nature.
"It gets them away from their usual distraction," Starr said, singling out video games as the biggest.
"It combines fitness, learning and the chance for them to develop a love of the outdoors."
---
David Hasemyer: (619) 542-4583; david.hasemyer@uniontrib.com